At the height of Ethereum's congestion troubles in 2021, crypto investors were fleeing to alternative blockchains to escape the skyrocketing fees. One of them was Polygon (MATIC).
The network showed rare resilience to downward price pressures in the crypto space. While May's crypto crash reached Polygon as well, the India-based alternative still retains its core attraction of interlinking Ethereum-compatible blockchains. If you want to know if it is worth a buy, read further to find out what Polygon is all about.
What Is Polygon Network and MATIC?
As it became apparent that Ethereum is poised to have scalability issues, Matic Network emerged as a scalability solution. As a proof-of-stake (PoS) blockchain, the network uses sidechains to conduct off-chain computations, therefore alleviating traffic congestion. This is why Polygon has been dubbed with the moniker — Ethereum's Internet of Blockchains.
In February 2021, Matic Network was rebranded as Polygon Network, an attempt to gain greater traction and better reflect its mission. After all, a regular polygon represents a testing ground fertile for building platforms and exploration, known as such in military jargon. Furthermore, the new name differentiates it from simply a layer-2 scaling booster for Ethereum.
Correspondingly, Polygon has evolved into a framework for building linkable, Ethereum-compatible blockchains, with each one capable of having its own governance system and native tokens. At the same time, they all share the entire network's security. Despite the rebranding from Matic to Polygon, the name of its utility token is still MATIC, so you will find it listed as such on various exchanges and DeFi protocols.
Polygon's Ecosystem and Background
Polygon is an Indian venture started in Bangalore in 2017, but is now based in Mumbai. Its core team consists of Anurag Arjun, Jaynti Kanani, and Sandeep Nailwal. Serbian software engineer Mihailo Bjelic later joined the Indian trio. Jaynti Kanani currently serves in the leadership position as Polygon's CEO. However, when it comes to publicity, Nailwal has achieved global notoriety by setting up India's crypto pandemic relief fund. Subsequently, Vitalik Buterin injected the fund with a $1 billion donation via the Shiba Inu Coin project.
Polygon's mainnet launched in May 2020, quickly growing in popularity as a way to engage in yield farming affordably. Some of its more popular native dApps are:
Polycat Finance
Iron Finance
PolyYeld Finance
KogeFarm
QuickSwap
Cometh
Across dozens of dApps, Polygon Network has accrued a market cap of over $5.8 billion as of July 2021. This success has led to many partnerships, the most notable being with the Indian tech giant Infosys's M-Setu project. The parties formed this collaboration to integrate cross-chain enterprise solutions that tap into Ethereum.
Polygon also partnered with Google for its BigQuery Cloud platform and the Trace Network. The latter focuses on providing a robust NFT marketplace. Most importantly, Polygon partnered with Aave, one of the leading DeFi protocols on Ethereum. After Aave launched on Polygon in April 2021, its traffic spiked by 50% in one week alone. Since then, it has achieved over $12 billion in TVL (total value locked), with current levels sitting at around $7 billion. Thanks to its smart contract bridge to Ethereum, Polygon's Aave iteration became one of the most popular yield farming protocols in the DeFi space.
Needless to say, the MATIC price rose significantly as a direct consequence of partnering up with Aave.
How Does Polygon Work and What Are Layer-2 Solutions?
While Ethereum is very close to solving its scalability problem through a number of ETH 2.0 upgrades, it still has a capacity of only about 14 to 30 transactions per second. This is woefully inadequate to serve the needs of users, let alone if Ethereum intends to replace the likes of SWIFT, capable of doing over 180 transactions per second.
As a result of this bottleneck, users have to pay high gas fees for their transactions to be confirmed by miners. Otherwise, they have to wait and potentially lose opportunities and potential profits. ETH 2.0 addresses this by transitioning from Proof-of-Work consensus to Proof-of-Stake consensus.
Polygon positioned itself as a perfect fit to facilitate Ethereum transition as the only ready-to-go PoS blockchain that is EVM (Ethereum Virtual Machine) compatible. In other words, Polygon can offload Ethereum's traffic onto its sidechains while retaining its sovereignty. Without it, Ethereum would only be able to use its Layer One solution — scaling only on its main chain.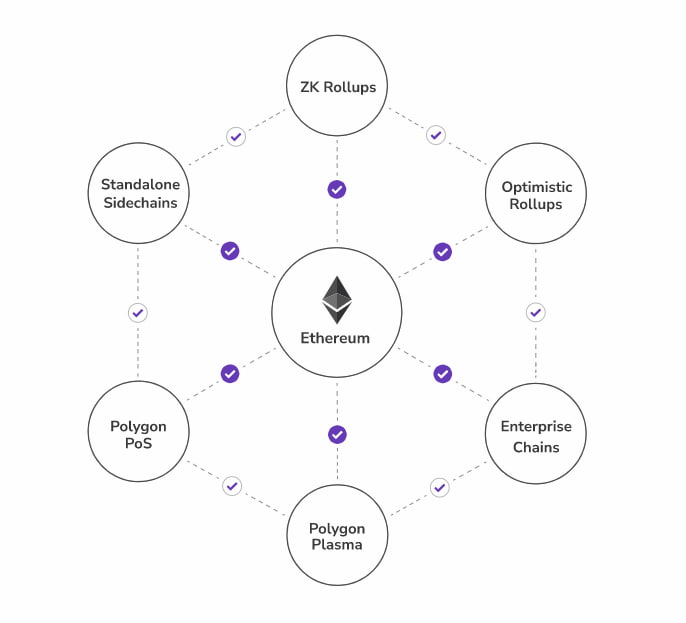 Polygon offers Layer 2 scalability solutions, meaning that transactions can be performed off-chain or on a sidechain with a theoretical throughput of up to 65,000 transactions per second. This is then tethered to its main chain, called Plasma. Furthermore, Polygon's vision includes support for a wide range of scaling solutions:
Validum Chains
Matic Plasma
ZK Rollups
Optimistic Rollups
At the current date, Matic Plasma is Polygon's core scaling mechanism, functioning by offloading Ethereum's transactions onto its main Proof-of-Stake chain. Because both Ethereum and Polygon revolve around the Solidity programming language, it can tap into a deep pool of developer talent. In the future, this means that developers will have other aforementioned Polygon scalability options readily available.
Polygon (MATIC) Coin Details
Just before the entire crypto market crashed from its all-time high, MATIC coin price achieved an all-time-high (ATH) of $2.45 on May 18, 2021.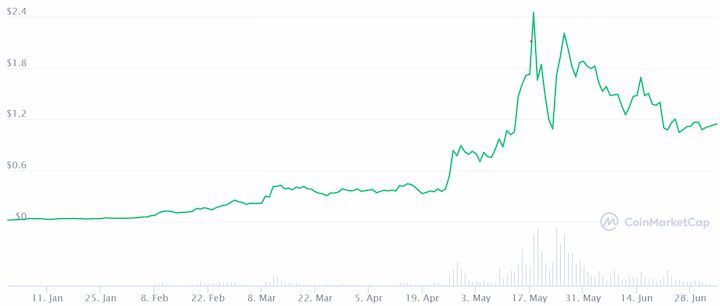 With over 50 dApps in its ecosystem, 800,000 unique addresses, and 76 million transactions under its belt, it is difficult to see MATIC price not rising again above its previous ATH once the market returns to previous levels.
MATIC's coin supply is capped at 10 billion, of which about 6.3 billion is in circulation. As with ETH for Ethereum, MATIC is used to pay network transaction fees and secure the network. Therefore, as long as Polygon continues to gain traction, this token will likely be in high demand.
How To Buy Polygon (MATIC)
Although MATIC crypto is available on India's largest crypto exchanges, such as BuyUcoin, consider a more elegant solution. Decentralized exchanges (DEX) are impervious to government censure and fortified against exploits because they don't hold your wallet's private key.
One such platform is Komodo's AtomicDEX exchange, available on all major platforms — Windows, Linux, macOS for desktop as well as Android and iOS for mobile. Komodo itself relies on the open-source development of decentralized exchanges, with AtomicDEX as a first of its kind to combine a multi-coin non-custodial wallet with atomic swap powered exchange.