If you were to ask a DeFi enthusiast which programmable blockchains can counter Ethereum, they would invariably mention Polkadot (DOT). After the crypto crash in May and ahead of the Ethereum 2.0 upgrade, let's examine what Polkadot can offer in the DeFi space.
What Is Polkadot (DOT)?
The Polkadot blockchain was envisioned with two key features in mind — interoperability and scalability. Like Ethereum, it gives developers an open-source framework called Substrate to build smart contracts. These dApps (decentralized applications) can cover the entire specter of decentralized finance, from yield farming to NFT marketplaces, alongside altcoins.
However, unlike Ethereum, Polkadot was developed from the get-go as a scalable Proof of Stake blockchain. More precisely, based on the Nominated Proof-of-Stake (NPoS) consensus algorithm that utilizes four types of network actors — validators, nominators, collators, and fishermen. The latter two — collators and fishermen — work by informing validators of the parachain status, while fishermen monitor validators and report any errors.
Between them, they make sure the network is free of corruption and the possibility of a 51% attack. Without going into technical minutiae, in practical terms, Polkadot can perform at a minimum of 1,000 tps (transactions per second). For comparison, the pre-upgraded Ethereum can produce about 13.4 tps. Moreover, Polkadot can easily scale this up even further via parachains — independent blockchains with their own native tokens and tokenomics. Speaking of which, here is what Polkadot's blockchain-building infrastructure looks like: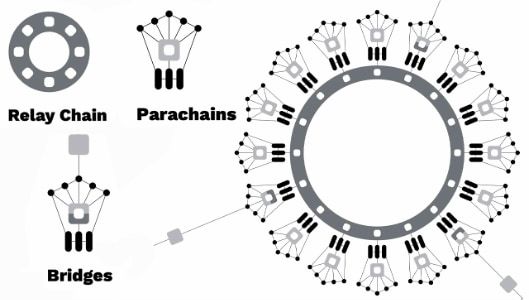 Polkadot's parachains are poised to launch in the latter half of 2021. As mentioned previously, they are independent chains and the building block for Polkadot's future scalability.
The relay chain stands at the core of the Polkadot infrastructure, making it possible to move crypto assets between chains, while also sharing Polkadot's security and consensus.
Parathreads can be understood as pre-parachains. They are usually small projects that developers can build on the relay chain, and then expanded into full-blown parachains as needed. Likewise, parachains can be reduced into parathreads, once again emphasizing Polkadot's fluid scalability.
Bridges connect to both external blockchains and internal parachains and parathreads.
Polkadot pools security via the novel GRANDPA consensus — GHOST-based Recursive Ancestor Deriving Prefix Agreement. It aggregates protections and applies them to all parachains.
One of Polkadot's most unique features and advantages over other blockchain solutions is the parallel processing of transactions across multiple chains. Adding to Polkadot's advantage over Ethereum, its Substrate development framework supports numerous blockchain programming languages, such as Rust or C++. Projects can then be tested and finalized on Polkadot's Rococo Testnet, offering a streamlined development experience. The testnet currently includes over 400 projects.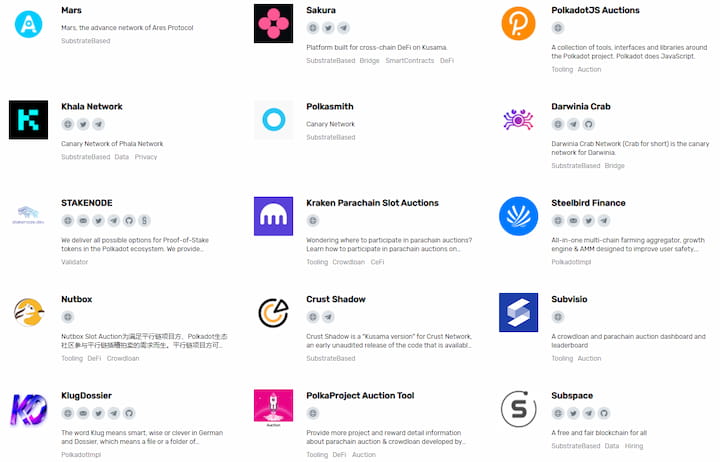 Like Cosmos, Polkadot offers cross-blockchain transactions, making it a great asset to alleviate congestion and high transaction fees if external blockchains get too crowded.
Polkadot (DOT) Background
Supported by the Web3 Foundation, one can rarely find a more impressive background on the blockchain development scene. Polkadot's key founder is Dr. Gavin Wood, one of the co-developers of Ethereum and the developer of the Solidity programming language, which is used in Ethereum programming to build smart contracts and dApps. Other founders include Robert Habermeier and Peter Czaban, with high-level expertise in blockchain development, cryptography, and Rust.
Polkadot was launched in 2017 by Parity Technologies. When Dr. Wood left the Ethereum development team to make a clean break and form Parity, it did not go well at first. In the ICO funding round, the development team was locked out of $150 million, requiring a hard fork to recover the money held in ETH.
After the wallet mishap, Polkadot launched BBQ Birch testnet in 2018, making it possible to deploy Web Assembly smart contracts within the Substrate framework. In 2019, Polkadot launched the Alexander testnet, introducing Proof-of-Concept 4 (PoC-4), improving on Polkadot's staking features.
Apart from the Web3 Foundation, which concerns itself with developing a decentralized internet, Polkadot has formed partnerships with Polymath, Energy Web Foundation, Centrifuge, Laminar, Chainlink, Edgeware, Ocean Protocol, Katal, Acala, and many others.
Polkadot Coin Price
Polkadot's native token, DOT, is used to govern the network, bond parachains, vote on development proposals, and make payments. The DOT max supply is 1 billion tokens, a drastic upgrade from its original total supply of just 10 million in August 2020. During that period, the team decided to redenominate DOT, now denominated to 10 decimal places. DOT holders voted on the change, increasing DOT balance for all users by 100x, with a Planck remaining as its smallest unit.
With more projects onboarding to the Polkadot ecosystem, it achieved rapid growth, from a market cap of $5.1 billion on September 3, 2020, to about $20 billion in June 2021. DOT's ATH (all-time high) price was $48.68 on May 15, just a couple of days before Elon Musk triggered a historic crypto crash with his tweets.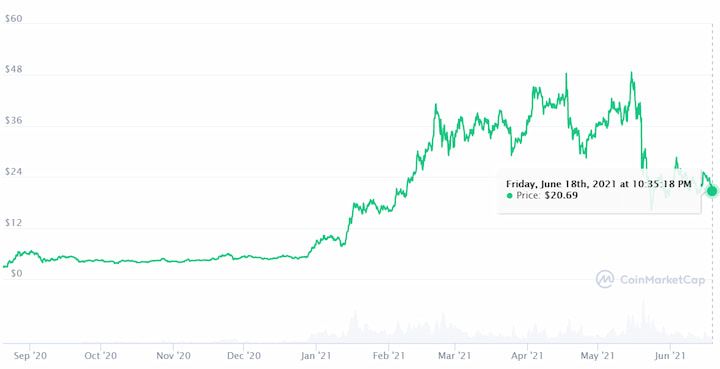 Developers who wish to deploy a new parachain on Polkadot's relay chain must buy the slot with DOT tokens via an auction. When these auctions are finalized, the DOT tokens are then frozen without getting staked.
Why Do We Need Polkadot?
Unlike many available blockchain networks, Polkadot's parachains system not only makes it a fast and scalable network, but also, hard forks are not necessary. All Polkadot future upgrades can be performed without creating hard forks, which can better ensure stability and avoid user confusion. When it comes to raw benefits, DOT token supply increases annually by 10%, distributed proportionally across the network's stakeholders. Those interested in becoming validators and nominators must stake DOTs for at least 28 days.
Polkadot's most interesting and popular project is Chainlink (LINK), serving as an interface between real-world data and blockchain smart contracts. This has become extremely useful for infusing traditional assets like stocks into the DeFi ecosystem. For example, the Synthetix derivatives liquidity platform uses LINK to create synthetic assets (synths). This way, one can trade stocks without relying on centralized brokerages.
When it comes to blockchain interoperability, Moonbeam is Polkadot's main project, bridging the most prominent smart contract blockchain — Ethereum — with Polkadot. Then, cross-chain smart contracts can be seamlessly executed via Moonbeam's utility token called Glimmer (GLMR).
There are other highly valuable Polkadot projects. To name a few, Polkastarter (POLS), a decentralized crowdfunding platform akin to Kickstarter, Subsocial, a Web 3.0 decentralized social media platform, and Ocean (OCEAN), which tokenizes online data and makes it available to be sold on marketplaces.
How to Buy Polkadot Coin
Built on a solid, future-proof foundation, it is easy to imagine the DOT coin price rising in time if adoption continues. Notwithstanding May's crypto crash, this has certainly been the case so far. Fortunately, you can buy Polkadot crypto on all major exchanges:
Coinbase
Kraken
Binance
Huobi Global
HBTC
OKEx
Once you complete your KYC/AML registration protocols, it would be best to transfer DOT coins from the exchange to your mobile or hardware wallet, where you possess your private key. The most popular wallet for DOT tokens is a non-custodial wallet - a wallet in which you have complete control of your funds. One example of an official Polkadot wallet is PolkaWallet.
A more universal wallet, one which can hold multiple cryptocurrencies from a variety of chains while offering staking and trading, is Atomic Wallet. Even better, Komodo's AtomicDEX not only provides a multi-chain wallet, but also a decentralized P2P (peer-to-peer) multi-chain exchange, one of the first of its kind. Currently, AtomicDEX supports BEP-20 DOT, which is a 1:1 representation of DOT available on Binance Smart Chain.
AtomicDEX does support many assets on their native chains as well, including Bitcoin, Ethereum and all ERC-20 tokens, Dogecoin, Qtum, and many more networks are already supported.