22 December 2022
Updated: 08 June 2023
What Is Firo (FIRO)? — A Leading Crypto Privacy Innovator
Since the inception of Bitcoin, brilliant software engineers have been working on turning cryptocurrencies into private means of exchange, protecting both parties in the transaction in the same way as cash does.
Many projects have worked to build a network to solve this problem, and in this case, we'll be highlighting Firo's attempt. Formerly known as Zcoin, the cryptocurrency initially targeted the Southeast Asia market, but has expanded and contracted since its inception. Is Firo (FIRO) a viable and long-term privacy coin solution, or will it fade away like many other privacy-focused projects' attempts? Let's find out.
Firo Background
Firo was created by Poramin Insom in 2014. Insom was getting his Master's degree in Information Security from Johns Hopkins University when he first theorized how to implement a new privacy protocol into a cryptocurrency, the Zerocoin protocol. He wrote a paper introducing this new protocol, which served as the groundwork for the ecosystem.
This novel protocol, also designed by computer scientists affiliated with Johns Hopkins, worked as an extension of the Bitcoin protocol, offering anonymous transactions by natively integrating coin-mixing mechanisms directly into the network. Through coin mixing, user transactions are grouped and mixed up before sending the value to the receiving party, effectively 'cleaning' the trade and obscuring it from trackability. This would allow users to gain more utility from Bitcoin's initial codebase, which does not offer any privacy-focused abilities.
Milestones
Firo's history is not solely plagued by exploitations, as they have introduced some highly innovative network features as well. Firo was the first project to successfully hide an IP address without using a Tor browser or VPN, utilizing a method called the Dandelion++ protocol.
Firo core developers have researched a number of groundbreaking privacy-preserving technologies. Much of this work has been featured in highly-respected academic research publications.
Firo also made some headway in 2018, conducting party elections for the Thailand Democrat Party using blockchain vote counting and verification. This was the world's first large-scale political election to use blockchain. Firo also focused on GPU-based cryptocurrency mining, a format that benefits both everyday users and large-scale mining farms.
Improving the Protocol
Firo is constantly upgrading its protocol to implement cutting-edge privacy technology. In 2019, Firo transitioned from its original privacy protocol to a privacy protocol called Sigma. This eliminated a trusted setup feature, providing greater security. In January 2021, the project switched to a next-gen protocol called Lelantus.
Currently, Firo is working towards the goal of switching to Lelantus Spark — a solution that offers flexible Spark addresses that hide all transaction amounts, and are not searchable on the blockchain while allowing efficient threshold signatures and both incoming and outgoing view key support. Lelantus Spark completed a code audit by HashCloak in December 2022.
Buying and Selling FIRO
FIRO is still fighting for its role in the privacy coin space, capturing a market cap of around $19 million as of June 2023. The project also ranks around the top 600 by market cap cryptocurrencies on CoinMarketCap.
If you want to exchange FIRO in a decentralized manner, which would make sense since it's a privacy coin and DEXs let you protect your privacy, you can utilize a multi-chain decentralized exchange like AtomicDEX. With AtomicDEX, you can trade FIRO as well as thousands of other cryptocurrency assets such as Dash (DASH), Zcash (ZEC), and more from one simple-to-use hub. AtomicDEX makes it easy and accessible to get involved with this privacy coin in a decentralized way.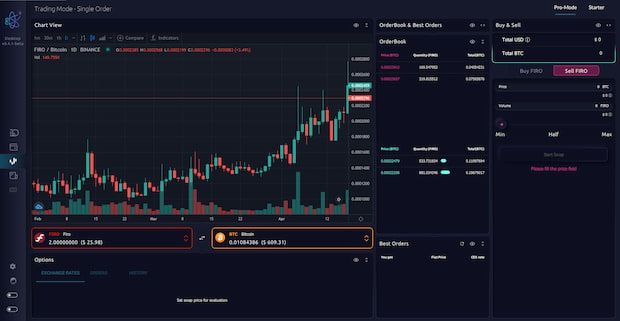 Storing FIRO
You can always store your FIRO on a centralized exchange cryptocurrency wallet as you would on Binance or Huobi, but there are safer options if you want more control over your private keys. FIRO recommends three official desktop wallets directly on its site, the QT Wallet, Electron Wallet, and Electrum Wallet, all of which are available for Windows, Mac, or Linux.
There is also a slew of other recommended wallets, some of which are available in mobile versions. You can also choose an option like the AtomicDEX non-custodial wallet, which supports multiple coins on both desktop and mobile. Regardless of your storage needs, FIRO holders have a lot of options to choose from.
Additionally, in February 2022, Firo launch its own "branded DEX" — an app that utilizes the features of AtomicDEX API. This product is called FiroDEX and provides the exact same functionalities as AtomicDEX.

Final Thoughts
Overall, FIRO is competing in a highly competitive market, the privacy coin market, with relative success. Many cryptocurrency projects that launched in 2014 have since fallen to the wayside, but FIRO has continued to improve and tries to offer its users more options and usability.
Although Firo has been barraged by attacks over the years, the project still has a strong and loyal base of supporters. Having been around for nearly a decade, Firo has established itself as an innovative project that caters to privacy-focused individuals and anyone who values the preservation of personal liberty.