FIRO - A Competitor For Privacy Coin Supremacy Bogged Down By Attacks
Since the inception of Bitcoin, brilliant software engineers have been working on turning cryptocurrencies into private means of exchange, protecting both parties in the transaction in the same way as a cash does. Many projects have worked to build a network to solve this problem, and in this case, we'll be highlighting Firo's attempt. Formerly known as Zcoin, the cryptocurrency initially targeted the Southeast Asia market, but has expanded and contracted since its inception. Is Firo (FIRO) a viable and long-term privacy coin solution, or will it fade away like many other privacy-focused projects' attempts? Let's find out.
Firo Background
Firo, initially known as Zcoin, was created by Poramin Insam at the tail end of 2014. Insam was getting his Master's degree from Johns Hopkins University when he first theorized how to implement a new privacy protocol into a cryptocurrency, the Zerocoin protocol. He wrote a paper introducing this new protocol, which served as the groundwork for the Zcoin ecosystem. This novel protocol, also designed by computer scientists affiliated with Johns Hopkins, worked as an extension of the Bitcoin protocol, offering anonymous transactions by natively integrating coin-mixing mechanisms directly into the network. Through coin mixing, user transactions are grouped and mixed up before sending the value to the receiving party, effectively 'cleaning' the trade and obscuring it from trackability. This would allow users to gain more utility from Bitcoin's initial codebase, which does not offer any privacy-focused abilities.
Plagued by Attacks
Zcoin officially launched on September 28, 2016, becoming the first cryptocurrency to implement this untested privacy protocol. Less than six months after its introduction, Zcoin experienced its first problems, suffering from a hack that led to the creation and sale of 370,000 tokens, which the thief (or thieves) then sold for 400 BTC. However, this manipulation did not seem to faze the community in a significant way. The price of Zcoin continued to climb throughout this event, repeatedly setting new all-time price records almost day-over-day.
One of the reasons Zcoin may have continued to thrive could be because of how they handled the exploitation. Many early cryptocurrency users were driven to this asset class due to libertarian ideals, where they think centralized authorities should have no power to control outcomes. Unlike Ethereum after the DAO hack, where core developers decided to isolate the stolen coins and return the value to end users via a network hard fork, Zcoin did not opt to reverse or affect these hijacked coins in any way. Depending on a user's position, this decision could be looked at positively or negatively.
Although luckily not exploited again, the Zcoin team found a critical flaw within the Zerocoin protocol which would have allowed any attacker to steal, destroy, and create their own Zcoin. The development team publicly acknowledged this flaw, but with the caveat that this sort of attack would be highly difficult to pull off, with a very low chance of being profitable for the attacker based on the amount of value he would have to input to overtake the network. As far as attacks go, Zcoin made it a few more years without any exploitation, but faced manipulation following its rebranding from Zcoin to Firo. Firo recently suffered a 51% attack in January 2021.
Firo High Points
Firo's history is not solely plagued by exploitations, as they have introduced some highly innovative network features as well. Firo was the first protocol that was able to hide an IP address without using a Tor browser or VPN, utilizing a method called the Dandelion protocol. Firo also made some headway in terms of mainstream usage, conducting party elections for the Thailand Democrat Party using blockchain vote counting and verification. They also focused on GPU-based cryptocurrency mining, a format that benefits both everyday users and large-scale mining farms.
Hello Sigma
Before rebranding as Firo in October of 2020, Zcoin swapped protocols, getting rid of its Zerocoin protocol in favor of the new Sigma protocol. This switch prevents counterfeit tokens from inflating the total token supply, made possible by removing the Zerocoin protocol's trusted swap feature.
Buying and Selling FIRO
FIRO is still fighting for its role in the privacy coin space, capturing a market cap of over $150 million as of April 2021. With almost $30 million in current daily trading volume, there is demand for FIRO, but a bottleneck in terms of supply. FIRO is available for exchange on many of the top centralized platforms, such as Binance, Huobi, Bittrex, and Gate.io, but the token receives almost no representation on decentralized exchanges. This is mainly because FIRO utilizes its own network, and decentralized exchanges usually only support projects from their host networks, like Ethereum or Binance Smart Chain.
If you want to exchange FIRO in a decentralized manner, which would make sense since it's a privacy coin and DEXs let you protect your privacy, you can utilize a multi-chain decentralized exchange like AtomicDEX. With AtomicDEX, you can trade FIRO as well as thousands of other cryptocurrency assets such as Dash (DASH), Zcash (ZEC), and more from one simple-to-use hub. AtomicDEX makes it easy and accessible to get involved with this privacy coin in a decentralized way.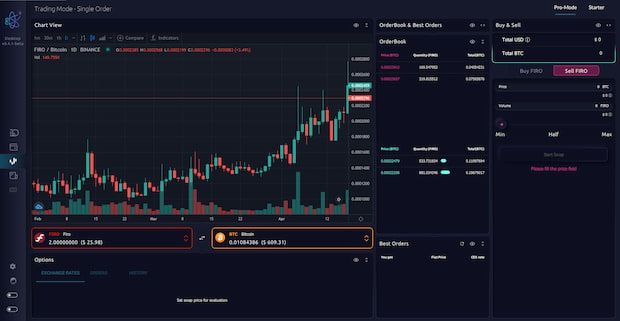 Storing FIRO
You can always store your FIRO on a centralized exchange cryptocurrency wallet as you would on Binance or Huobi, but there are safer options if you want more control over your private keys. FIRO recommends three official desktop wallets directly on its site, the QT Wallet, Electron Wallet, and Electrum Wallet, all of which are available for Windows, Mac, or Linux. There is also a slew of other recommended wallets, some of which are available in mobile versions. You can also choose an option like the AtomicDEX non-custodial wallet, which supports multiple coins on both desktop and mobile. Regardless of your storage needs, FIRO holders have a lot of options to choose from.
Final Thoughts
Overall, FIRO is competing in a highly competitive market, the privacy coin market, with relative success. Many cryptocurrency projects that launched in 2014 have since fallen to the wayside, but FIRO has continued to improve and tries to offer its users more options and usability. Although FIRO has been barraged by attackers, hurting the community, the project still has a strong and loyal base willing to hold the FIRO coin. It's impossible to say if FIRO will be around forever as a long-term store and transfer of value for privacy-focused individuals, but for now, it has established a foothold within the sector.