06 October 2022
Updated: 20 April 2023
What Is Fantom (FTM)? — A Competing Dapp-Focused Network
Several blockchain networks have emerged in the past few years with the hope of providing better performance than Ethereum. One network that is aiming to bring a wide range of improvements is Fantom.
The Fantom network is a network that is focused on scalability, and here we will see how it plans to improve upon alternatives. It has some similarities to other networks on the market but has its own distinguishing features as well.
Here's how Fantom is building a platform for decentralized applications (dApps) and decentralized finance (DeFi).
What Is Fantom?
Fantom is a decentralized, open-source, permissionless blockchain that offers high throughput. It was built with the intention of better facilitating the use of smart contracts for dApps. To that end, it comes with many features, which are detailed later. It also features its own native coin — FTM.
The Fantom definition is rather straightforward, as you can see. It was conceived as the DeFi market began to become more and more popular. Many users on Ethereum were irked by the high gas fees that would occur when the network was clogged. Around that time, several new networks appeared, offering much lower network fees.
The network has integrated with several of the market's biggest solutions providers, including Chainlink, Band Protocol, and The Graph.
How Does Fantom (FTM) Work?
Fantom makes use of the Asynchronous Byzantine Fault Tolerance (aBFT) consensus protocol to achieve the aforementioned high transaction throughput, low transaction fees, security, and reliability. The four fundamental design principles that underpin Fantom are scalability, security, modularity, and its open-source nature; the design keeps network security high while still allowing scalability and decentralization.
The Lachesis mechanism, described below, employs a modular consensus layer. This can be integrated into any distributed ledger network. This means developers can port Ethereum dApps to Fantom's mainnet with ease, reaping all the potential benefits.
There is also a software development kit called Fantom Virtual Machine that will allow native development on Fantom. As such, developers can also easily develop on Fantom and port from Ethereum.
Fantom Network Structure and Design
There is one main technical idea that makes Fantom what it is. This is called Lachesis.
Fantom Lachesis
The consensus protocol of Fantom is Proof of Stake (PoS), but it does not have any leaders due to its aBFT mechanism. This mechanism is called Lachesis, and it performs much better than a Proof of Work (PoW) algorithm in some respects. Lachesis has multiple benefits, including near-instant finality. The resulting transaction times average at one second. This is one of the reasons why Fantom is much faster than other blockchain networks.
With Lachesis, each node contains its own Directed Acyclic Graph (DAG), and they achieve consensus independently. Batches of these are then collated and confirmed on the Fantom network as a whole. These nodes communicate with each other to validate the legitimacy of the transactions.
Features of Fantom (FTM)
As a blockchain network pioneering a new design, Fantom has a few interesting features which distinguish it. The following are some of those features.
Fast, Secure, and Cheap Payment Platform
With its aBFT, Fantom allows for quick and secure payments at minimal costs. This is one of the more basic features, but it is also one of the more consequential ones. The overall experience of using the Fantom network is comparatively better because of the novel approach to consensus.
On-Chain Governance
Fantom is one of the earliest networks to support on-chain governance. Voting is done with FTM entirely on-chain, and each coin is equal to one vote. Stakers can submit proposals, which cost 100 FTM, and holders can then vote on the proposal. Uniquely, users can express a degree of agreement on proposals, on a scale of 0 to 4, with 0 beginning complete disagreement and 4 being full agreement.
Liquid Staking
The staking structure for Fantom is quite interesting. Users can stake FTM with a validator node to receive 1.8% APY (no lock-up period). Users can also choose to lock up FTM for up to 365 days and receive 6% APY.
Liquid staking, on the other hand, lets stakers mint sFTM at a 1:1 ratio to their staked FTM to be used as collateral in Fantom Finance. The latter is a suite of DeFi apps built on Fantom, letting users make the most of their capital even while staked.

Use Cases for Fantom Coin (FTM)
The Fantom coin has a few different use cases, and in this sense, it resembles other networks. The two most important use cases are listed below.
Compensating Validators
Validators play a key role in the Fantom ecosystem. On top of transaction ideation, they are rewarded for such activities as preventing transaction spam. All rewards are paid in FTM, incentivizing the continual running of the network.
Governance Activities
The FTM coin can be used to direct the development and network parameters, as mentioned earlier. Governance is one of the key uses of the FTM coin, as is the case with other projects of a similar nature.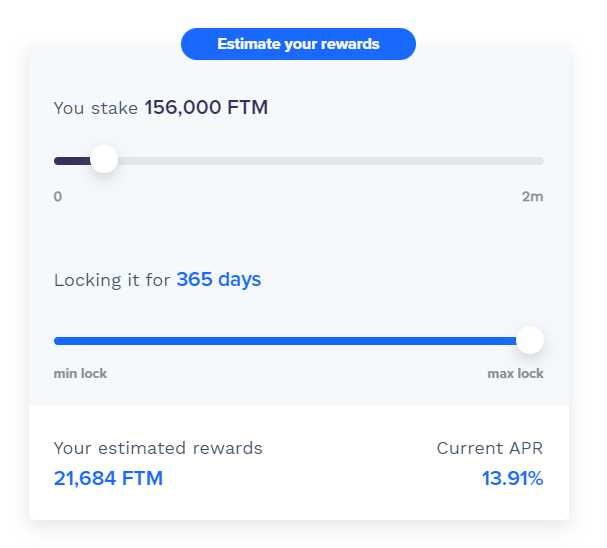 Fantom (FTM) Future Outlook and Price Prediction
Scalability is undoubtedly an issue for blockchain networks, especially those that work in such a burgeoning space as decentralized finance (DeFi). Fantom brings some exciting solutions and, as such, could significantly impact the market in the future. Everyone's looking for a Fantom crypto price prediction, but as always, it's not so straightforward.
As of April 2023, the FTM price sits at $0.46, and its total market cap is roughly $1.28 billion. Fantom's success will depend on how well the network ecosystem grows and whether it features some killer dApps. Like all assets in crypto, at this point, it would be mere speculation to pin a target on the FTM price.
How and Where To Buy Fantom?
As for where to buy the Fantom crypto asset, you only need to look at some of the biggest exchanges on the market, like Binance, Gemini, or Uniswap. Buying Fantom is about as easy as buying Ethereum, so you don't have to worry too much.
So how to buy Fantom? Simply head over to one of the exchanges it is listed on and make the swap. It's pretty much the same as any other asset, so you won't have much trouble.
The Future of Fantom
The Fantom network holds some promise for the dApp and DeFi ecosystem. The network performance is strong, and it also offers some interesting features, like Fantom Liquid Staking. On top of that, the network certainly holds the capability to run large-scale network interactions.
Success will largely depend on the growth of its ecosystem, and that still remains to be seen. All in all, it's certainly worth keeping an eye on Fantom as the DeFi market grows to a more commercial level of adoption.
Hold and Trade FTM On AtomicDEX
AtomicDEX is a non-custodial multi-coin wallet and atomic swap DEX. Store Fantom as well as Bitcoin, Ethereum, Dash, Qtum, and many other coins in your own wallet. When you're ready to trade, AtomicDEX supports cross-chain swaps. Your keys, your coins.